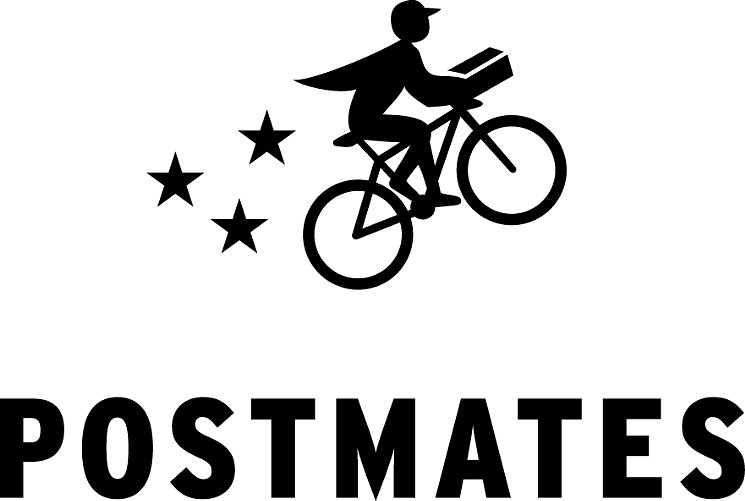 Ordering food way too frequently has introduced me to a variety of delivery apps. The food delivery industry is a competitive market with services like Amazon Prime Now, Postmates, Yelp, Grubhub, and EAT24 fighting to control this new space. The first delivery apps streamlined the ordering process with online menus and payments, but these services still relied on restaurants to employ their own delivery staff. Postmates' delivery model is fundamentally different than EAT24 and Grubhub's approach however. Postmates employs its own fleet of drivers, allowing restaurants to outsource their delivery staffing needs. Small businesses can potentially save money by removing the hourly expense of an in-house delivery person, and this difference gives Postmates an advantage over the Grubhub model.
I am a huge fan of Garage Pizza in Los Angeles, but they like to play hard to get. When I first ordered Garage Pizza, I could only get them to deliver to my house by using Grubhub. The delivery times were often over an hour, but the pizza arrived warm and the total was $21.53 without tip. While it wasn't the cheapest pizza, it was too delicious to resist. However, after ingesting an unhealthy amount of Za for several months, everything changed. Garage Pizza was no longer on Grubhub. I was distraught. They didn't even say goodbye. Was it something I said? Were they cutting me off for my own good? I didn't know what was happening. I needed answers.
I found those answers when I downloaded Postmates, which seemed to have poached Garage Pizza's account from Grubhub. I acted quickly, and making my way through the checkout system, I was getting closer to the pizza I so desperately desired. Something was horribly wrong though. One large cheese pizza was $26.38 WITHOUT TIP. That meant if I were to give my usual 3 dollar tip to the driver, the pizza would come out $29.38, which is absolutely ridiculous –even for pizza as good as this. At the time, I was disappointed, but I was also determined to get Garage Pizza. I placed my order. This is when things got even worse. Rather than sending the Postmates delivery person to the Garage Pizza located in DTLA, which is far closer to where I live in South Central, Postmates sent the order to the Hollywood Garage Pizza –easily an extra 30 minutes away from my house with traffic.
I thought to myself: "Oh well, it may be more expensive, and it may be farther away, but Garage Pizza always took forever with deliveries anyway. This should be fine."
It wasn't fine. When the pizza arrived, it was the same temperature as a cool night in Los Angeles. The Postmates driver had transported my $26 pizza for 45 minutes without putting it inside an insulated pizza sleeve. I accepted the order and tipped the Postmates driver, bringing my totally up to $29.38. At this point, I had waited over an hour to receive my pizza, paid more for this pizza than I had on Grubhub, and received a pizza that was colder than Postmates' business practices. I had lost this delivery experience in every way imaginable, but this event made me think.
If Postmates is going to attempt to subvert the delivery industry the way Uber subverted the cab industry, they need to make delivery better –not worse. Not worse means the consumer paying an equal or better rate for delivery. Not worse means picking up from the closest location to a customer. Not worse means keeping food the proper temperature. Postmates is a "task" service that focuses on food. I could Postmates alcohol, beer, cigarettes, washing detergent, etc, but almost every option listed on the application by default is a restaurant. If Postmates is going to focus its marketing efforts entirely on the restaraunt industry, this app will need to rethink how it handles food delivery.
A restaurant that hires an in-house delivery person will never hit consumers with "surge delivery fees." A restaurant with in-house delivery has the proper equipment to ensure that food is delivered hot. If Postmates wants to replace in-house delivery, this company needs to supply its fleet of drivers with the proper tools to ensure the best delivery experience. If every order has an automatic delivery fee, customers will not be likely to tip when their food arrives cold. Ordering food from anywhere is an amazing option, but if Postmates cannot ensure that these food deliveries are handled with the same quality as restaurants, this service will simply make food delivery worse for consumers.
Uber took over because it was easier, cheaper, and nicer than taxis. While Postmates certainly makes delivery easy, this service has not made delivery cheaper or nicer –it has done the opposite. I can understand that a company looking to maximize profits might not want to give its entire fleet of drivers food-storage equipment, but in the long run, Postmates needs to emulate the traditional delivery industry if they wish to replace it. I hope that Postmates learns that transporting hot food without thermal containers will not work when the majority of orders in Los Angeles take 45 minutes to deliver. Until price and quality issues are fixed, businesses should be weary of relying on Postmates for delivery.